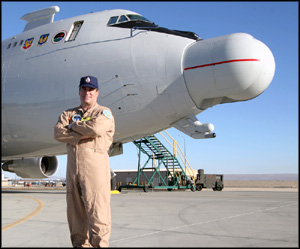 Summary:
Captain Doug Benjamin - presented the Air Borne Laser (ABL) program and its upcoming test program. Benjamin is chief pilot, Military Derivatives for Boeing Commercial Airplanes and was project pilot for the previous Low Power System Integration-Active test phase that ABL successfully conducted in 2006 and 2007. The upcoming test series, High Power System Integration-Active, will culminate by firing a megawatt-class laser from ABL to shoot down a theatre ballistic missile in-flight.
Speaker Profile: Doug Benjamin completed USAF pilot training, became a T-38 instructor, and flew the F-106 and F-16 operationally. He attended EPNER, French Test Pilot School and instructed at the USAF TPS. He then tested F-16 avionics and weapons upgrades at the F-16 CTF. After staff colleges, he served in the F-16 program office. He then disappeared into the black world, where he flew and commanded several classified programs. He was the second pilot to fly the Boeing Bird of Prey technology demonstrator, flying 21 of its 38 flights, including envelope expansion and mission utility evaluations.
Doug retired from the Air Force and became a Boeing Engineering Test Pilot, where he has flown multiple development, certification and military test bed programs. He was 737 project pilot for the Rudder System Enhancement Program, a new digital autopilot, the world's first certified GPS landing system, the Wedgetail Airborne Early Warning & Control airplane, and performed first flight on the Short Field Performance 737-800. He is currently Boeing's Chief Pilot, Military Derivatives, responsible for the E-3, C-40, P-8, Airborne Laser and the KC-767 tanker. He flew the "first light" sortie for ABL and expanded the 767 tanker envelope to meet Italian Air Force requirements. He has over 8000 hours of flying time in 90 aircraft, twelve FAA type and experimental aircraft ratings, and is current on all Boeing models, as well as the T-33 and T-38. He has a BSAe from the USAF Academy , an MAeS from Embry-Riddle Aeronautical University , and an MBA from the University of Phoenix .
Doug was General Chairman for The Society of Experimental Pilots 2004 Symposium, served on the SETP Board of Directors from 2004 to 2006 as Northwest Section Representative, and currently serves the SETP Board as Legal Officer as well as on the Membership Committee. He has presented papers at the Flight Test Safety Association of Australia, the 2005 Flight Test Safety Workshop and the 2005 and 2006 SETP Los Angeles Symposia. For his work on the Bird of Prey, he was inducted as an "Eagle" by the Flight Test Historical Foundation in 2004 and presented a retroactive Kincheloe Award by the Society in 2007. He was inducted as an SETP Fellow in the Class of 2008.
.