Bob Hammer - The Me-262 Project
Location: The Museum of Flight, 9404 East Marginal Way South, Seattle, Washington 98108-4097, Tel.: 206-764-5700
Date: 20 Feb, 2007
Time: 6:00 pm


The president of Classic Fighter Industries Inc, approached Bob Hammer -- then the 2007 Vice President of DCAC/MRM at Boeing's Commercial Airplane Group -- about completing the Me-262 aircraft project and supervising the flight test program. Hammer ultimately accepted, and retired from Boeing shortly thereafter, enabling him to devote his full attention to the Me 262 Project. Bob's career with the Boeing had been marked by countless milestones, including service as Chief Engineer, Director of Quality Control and Director of Engineering for the B 757. Hammer had designed the composite tail sections of the B 757 and B 767, and was also the Chief Engineer of Structures in the B-2 bomber program. He holds the current U.S. Patent for the B-2 bomber's wing. Of equal importance in this project is the fact that Hammer is an experienced builder of numerous experimental aircraft of his own design. Hammer's HH-1 Zipper (completed in 1980) proved itself a world-record breaking milestone as the first homebuilt jet aircraft . He has continued to develop innovative new machines, with the latest being the amphibious Sea Fire , recognized as the Oshkosh '98 Grand Champion.
Bob will talk about the recreation of the revolutionary and fascinating ME-262's in Everett along with the numerous challenges, trials and tribulations of this daunting, and ambitious task.
This is a lecture not to miss, so we'll look forward to seeing you there as we all get up to date with this exciting project going on right in our own back yard!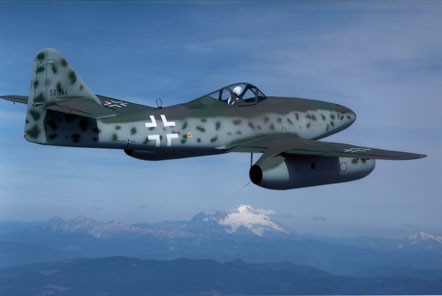 Credit Me-262 project
The Royal Aeronautical Society – Seattle Branch
c/o 501 Kirkland Avenue, Suite 102
Kirkland, WA 98033

You are invited to contact us by phone or email if you have any questions. See the Contact Us page for details