Fifth Annual Joe Sutter Black Tie Dinner Lecture
CD's for Sale
We now have CD's for sale at $10 each including shipping and handling of the 2006 November Black Tie "Joe Sutter" Dinner Lecture. This disk contains numerous high quality images of the event including musicians, the setting, speakers and guests most of whom look quite happy to be there.

These should run on most PC's and DVD players and really are a lot of fun. If you would like to make a purchase, please mail your check for $10 per CD and be sure to include your name and shipping address, to:
The Royal Aeronautical Society - Seattle Branch c/o 501 Kirkland Avenue, Suite 102 Kirkland, WA 98033
From Outlook, Washington, to Outer Space —
An Astronaut's Story
Location: Museum of Flight, 9404 East Marginal Way South, Seattle, Washington 98108-4097, Tel.: 206-764-5700
Date: 18 Nov, 2006
Time: 6:00 pm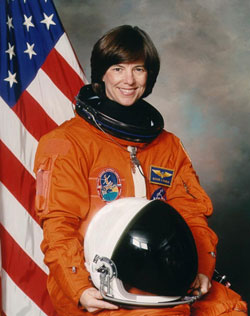 Courtesy of NASA
With numerous international branches, the Royal Aeronautical Society, headquartered in London and founded in 1866, is the oldest and one of the must prestigious aviation and aerospace organizations in the world. The society has witnessed virtually all major events with lectures and papers from those that made them happen, including the Wright brothers.
For our first Seattle Branch Black Tie Dinner Lecture in 2002 we had the honor of listening to Alan Mulally, then President and CEO of Boeing Commercial Airplanes, sharing his views for the future of commercial transports. In 2003, Joe Sutter, "Father of the 747", gave us a scintillating lecture from behind the scenes about the airplane that shrunk the world for ever. Then in 2004, Sir Ralph Robins' lecture addressed One Hundred Years of Rolls-Royce's fine accomplishments. And, in 2005 we received an inspirational, and humorous lecture by 777 Flight Test Pilot, Captain Suzanna Darcy-Hennemann, who with her team, had just completed the record breaking 777-200LR light from Hong Kong to London.
This year, we have a wonderful evening planned for our guests with the inspiring Dr. Bonnie Dunbar. Dr Dunbar, now the President and CEO of the Museum of Flight, has spent over 50 days in space and will give us a glimpse into the life of a small-town girl destined for great things.
In addition, Nancy Conrad will be joining us for the evening. Nancy, widow of astronaut Pete Conrad, will have donated Pete's pieces of Moon Rock to the Museum of Flight, earlier in the day.
As you may know, the Museum of Flight is hosting the Leonardo da Vinci Exhibit at the time of our event, and Rolls-Royce is very kindly funding access for all our guests to browse the exhibit during the cocktail hour prior to dinner.
This event will be held at the Museum of Flight, at 6:00 pm, Saturday, 18 November, 2006, in the Great Gallery of the Museum. Individual seating is US$110 for non-members. If you are a member of the Museum of Flight, the RAeS, in London, or the Seattle Branch, your seating is US$95 per person. If you are interested in sponsoring a table, the price is US$1200 and each sponsored table will seat eight guests.
We look forward to a full evening with the da Vinci Exhibit, delightful dinner, and a fascinating and candid talk by an amazing person. We hope you can attend and we'll be delighted to see you, your partner, and guests, at the 2006 Fifth Annual Joe Sutter Dinner Lecture!
If you would like to purchase tickets or sponsor tables to this year's event, please send your cheque payable to the RAeS Seattle Branch to the following address:
The Royal Aeronautical Society – Seattle Branch
c/o 501 Kirkland Avenue, Suite 102
Kirkland, WA 98033

You are invited to contact us by phone or email if you have any questions. See the Contact Us page for details