Lecture at the Museum of Flight
September 19, 2006 at 6:00 p.m.
Recreating & Celebrating the 1924 Douglas World Cruisers Achievements By "Around the World" Bob Dempster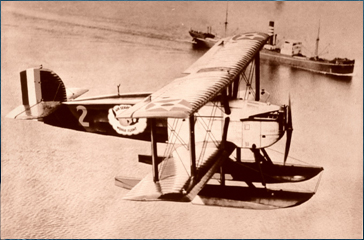 Our speaker and his co-pilot wife Diane last spoke to us in February 2005 about their stunning Piper Super Cub "around the world" flight. The pictures of their trusty cub in the remotest imaginable locations and conditions along with their fascinating narrative inspired us all. Who better or more credible then to tell us about the first flight around the world back in 1924? A fleet of four converted modified Douglas DT-2 Torpedo bombers became "Douglas World Cruisers" proudly named the Chicago, New Orleans, Boston, and Seattle. They set off against incredible odds with enormous support from the US Navy. Just the Chicago and New Orleans returned but all crew survived.
Bob is a visionary character never put off by seemingly impossible odds and reckons we should have a World Cruiser to show in the Museum of Flight. The Smithsonian and Santa Monica museums have the surviving originals and are not about to give them up. Undaunted and after extensive historical and technical research and community involvement Bob has undertaken to build a brand new one from the original Douglas drawings, and fly it round the world and afterwards will donate the recreated "Seattle II" to the MOF.
So, note the date and the time and join us to hear all about the historical 1924 flights and the resurrection from the dusty Douglas drawings of the brand new Seattle II World Cruiser right, in Bob's Renton Airport Hanger.
Admission is free and all are welcome.