Lecture at the Museum of Flight
Past, Present and Future of Aerospace -
An Evening with Erik Lindbergh
On Tuesday May 16th, the Seattle Branch had the pleasure of a presentation by Erik Lindbergh entitled "Past, Present and Future of Flight – An Evening with Erik".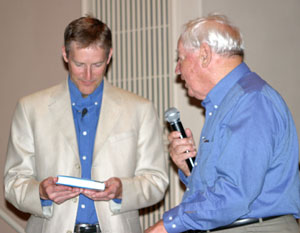 Members enjoyed an insightful presentation focusing on future of both atmospheric and space flight as well as the appropriate balance between technical innovation and worldwide ecology.
Prior to the main lecture, the speaker was presented with an early copy of "747", by the author, Joe Sutter. The autobiography contains several references to Erik's grandfather, Charles Lindbergh, the first man to fly solo across the Atlantic Ocean.
Following the lecture members had a memorable photo opportunity seeing Charles (Chuck) Kingsford-Smith, together with Erik under the same roof. Chuck is the son of famed Australian aviator Charles Kingsford-Smith, the first man to fly the Pacific Ocean.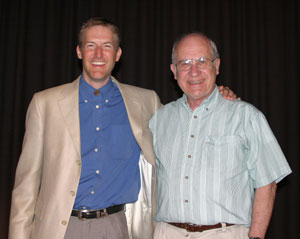 Erik is the grandson of Charles Lindbergh, and has established himself as an accomplished aviator, visionary, artist, and much more. Erik will be speaking on the "Past, Present and Future of Aerospace, and will speculate on the future of living and vacationing in outer "space hotels!"
Speaker's Profile: Erik Lindbergh, a commercial pilot and certified flight instructor, is the grandson of Charles and Anne Morrow Lindbergh. To mark the 75th anniversary of his grandfather's Spirit of St. Louis transatlantic flight, Erik Lindbergh recreated this 1927 milestone, illustrating the human spirit's ability to dream, innovate and achieve goals against many odds.
Though he leads an active lifestyle, Erik was diagnosed at the age of 21 with rheumatoid arthritis (RA), a progressive autoimmune disease that caused him to give up his passion for aviation when he was 28 years old. He now serves as a spokesperson for the Arthritis Foundation, working to educate others about RA.
A graduate of Emery Aviation College where he received his Aeronautical Science degree, Erik serves as a Trustee and Vice President of the X PRIZE Foundation, a non-profit organization that stimulates the creation of a new generation of launch vehicles designed to carry passengers into space. The X PRIZE is fashioned after the Orteig Prize, the aviation incentive prize won by Charles Lindbergh's transatlantic flight in 1927.
Erik is also a Director of the Lindbergh Foundation, a non-profit organization dedicated to furthering his grandparents' vision of balance between technological advancement and environmental preservation. The Foundation gives grants, does educational programs and gives the Lindbergh Award each year for work dedicated to the "Balance" concept.
An artist, Erik is the owner of Lindbergh Gallery, where he creates unique furniture and wood sculptures. A lifelong resident of the Pacific Northwest, Erik Lindbergh's approach to woodworking is to blend natural shapes into functional and pleasing form. He is known for his sculptures of rustic planets, spacecraft and aircraft.